As an immigration scholar, I was conscious of the meanings of "Guantánamo" even before I had the opportunity to teach a course dedicated to its specific histories and origins. For immigrants detained by the Immigration and Customs Enforcement agency (ICE), Guantánamo has had an extensive conceptual and symbolic reach.
In We Are All Suspects Now: Untold Stories from Immigrant Communities, Tram Nguyen describes how Ali Raza, a Pakistani taxi driver living in Queens, was seized by ICE agents following an FBI raid on his friend's apartment in October 2001. Although Raza's friend was cleared of being a threat to national security, Raza, lacking a green card, was sent to the Passaic County Jail in Paterson, New Jersey. There, FBI agents interrogated him about his high school Islamic teacher and how many times a day he prayed. Like all of the post-9/11 immigrant detainees at Passaic, Raza was denied the opportunity to phone relatives and friends for assistance. He relied on a network of letter exchanges facilitated by "regular" inmates of the jail, who passed correspondence along to their visitors who would then (hopefully) convey the letters to their intended destinations. As Raza would subsequently state, "Nobody knew where I was. I guess they all thought I was deported, or taken to Guatemala." Nguyen explains that Raza did not actually mean the Central American nation, he meant Guantánamo. Unable to recall the specific place name, the fearful idea he invoked was all too clear.
In 2007, the New Jersey Civil Rights Defense Committee published a report titled "Voices of the Disappeared," which provided a detailed investigation into the post-9/11 use of New Jersey county prisons as immigrant detention centers. Hudson County Jail in Kearney is located on a peninsula at the start of Newark Bay, bounded by the Passaic River on one side and the Hackensack River on the other. The facility stands out among the freight depots that prevail on this industrial stretch of land. Part of its appeal, to immigration officials at least, is its remoteness. Many of the immigrants brought to the facility come from Brooklyn or Queens, and it takes two or three hours each way for New York area visitors to get to the Hudson County Jail without a car. If this was not enough, psychological isolation has been fostered as well: immigrant detainees at the Hudson County facility reported that the phones they could allegedly use were always broken and that guards removed photographs sent to them by family members in letters.
As "Voices of the Disappeared" notes, "The government denial of due process guarantees to the tens of thousands of immigrant detainees is part of the same repressive strategy that has led to Guantánamo and the far more absolute deprivation of the rights of the detainees there." Since 1996, the Illegal Immigration Reforms and Immigrant Responsibility Act has made immigrant detention in the United States an "administrative" matter. Whereas due process in standard criminal proceedings requires timely hearings, specific charges filed, and guaranteed access to a lawyer, this has not been the case under such "administrative" law. If Guantánamo Bay is a "legal black hole," then the hundreds of immigration detention centers – to continue the metaphor – exert their own dark gravity, severely limiting what light of the law may enter them. The practices most closely identified with Guantánamo are present in our local communities.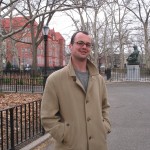 In "Curating Guantánamo: Public History and Public Awareness," the MA-level course that I am currently teaching at Rutgers, our classroom discussions often turn to this question: despite its well-documented departures from the constitutional "rule of law," to what extent is Guantánamo exceptional in this regard? What happens when we view the "Jim Crow" governance of black Americans, the internment of Japanese Americans, and other chapters in United States history through the analytical lens that Guantánamo demands, where legal protections are put aside due to a trumpeted and perceived state of emergency? As we continue to grapple with these issues, Guantánamo's histories guide us in ways we did not anticipate.
Posted by Andy Urban, ACLS New Faculty Fellow in the American Studies and History departments at Rutgers University
Rutgers University is participating in the Guantánamo Public Memory Project's National Dialogue and Traveling Exhibit. Opening at NYU's Kimmel Center for University Life Windows Gallery in December 2012 and traveling to 9 sites (and counting) across the country through at least 2014, the exhibit will explore GTMO's history from US occupation in 1898 to today's debates and visions for its future. The exhibit is being developed through a unique collaboration among a growing number of universities as a dialogue among their students, communities, and people with first-hand experience at GTMO.
2 Comments to: Reflection: Guantánamo: The Exceptional Norm?