This Week in Guantánamo: Present and Past
2012

: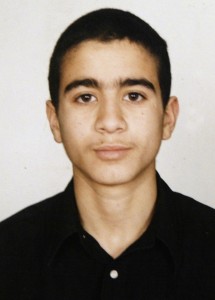 Despite a recent plea deal, Omar Khadr – a former Al Qaeda "child soldier" – has not been returned to his native Canada.
Khadr, now 25, was imprisoned at Guantánamo Bay naval base in 2002 after he was captured in Afghanistan. He was accused of throwing a hand grenade during a firefight, which killed U.S. Sergeant First Class Christopher Speer. He pled guilty to murder and attempted murder in violation of the laws of war, conspiracy to commit terrorism, providing material support for terrorism, and spying. Under the plea deal he was sentenced to no more than 8 years in prison with a maximum of 1 year in the U.S., after which time he would be returned to Canada. He should have been transferred after November 2011.
Khadr's case has been controversial because he was treated as an adult, even though he was 15 years old at the time of his arrest. The Canadian government has been criticized because it did not pressure the U.S. government to treat him as a juvenile. He has been held in an adult facility, and was not provided with educational opportunities—which goes against the United Nations' rules for the detention of juveniles.
The U.S. government is prepared to transfer Khadr, but has not received necessary authorization from the Canadian government. According to recent reports, the Canadian government must officially ask for Khadr's return, and has not yet done so.
In other news:
2007

:
This week in 2007, David Hicks – Guantánamo Bay Detainee 002 – was convicted of providing material support for terrorism. He was the first GTMO detainee to plead guilty to terrorism charges, and was sentenced to 9 months in prison in Australia.
Hicks is an Australian citizen who converted to Islam after training with the Kosovo Liberation Army, after which he traveled to Pakistan to study Islam, and later to Al Qaeda training camps in Afghanistan.
He was taken to Guantánamo Bay in January 2002 after being captured in Afghanistan. In The Least Worst Place, Karen Greenberg describes him as extremely intelligent, developing a communication system among detainees using whistles. Greenberg wrote that Guantánamo Bay guards described him as a volatile prisoner who threatened to kill them. He alleges he was tortured repeatedly during his internment at Guantánamo Bay.
The military panel that sentenced him recommended a 7-year sentence, but Hicks had already agreed to a plea deal that capped his sentence at 9 months. His sentence also carried conditions: he could not appeal his sentence, and he would remain silent about alleged abuse at Guantánamo Bay through the remainder of his prison sentence. He also agreed to a year-long gag order preventing him from speaking to the press. He apologized for his actions during the trial.
In 2010, Hicks published his memoir Guantanamo: My Journey, which is currently under scrutiny because under Australian law it is illegal to gain commercial benefit from a crime.
Hicks is married, has two children, and lives in South Australia.