This Week in Guantánamo: Present and Past
Two Guantánamo detainees from China, who were held for more than 10 years without charges, have been resettled in El Salvador.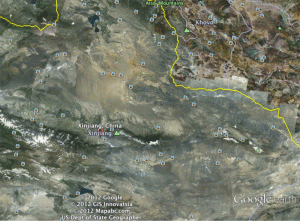 Both were captured in Pakistan along with 20 other Uighurs—a Muslim group who live primarily in China's Xinjiang Uyghur Autonomous Region, and have had recent troubles with the Chinese government. These men were in Pakistan because a September 2001 air strike by U.S. forces destroyed their camp. They were cleared of charges in 2008, but remained in limbo at Guantánamo Bay because legal restrictions blocked their transfer.
The Salvadorean government says they agreed to take the detainees because many countries accepted their refugees during the 1980-92 civil war.
To date, 169 detainees remain at Guantánamo Bay.
In other news this week:
This week in 1961, the U.S. launched the Bay of Pigs invasion. The invading troops were primarily Cuban exiles that the U.S. trained in covert camps in Guatemala. The mission seemed doomed from the start. The initial phase – an air raid launched by the U.S. air force in planes painted to look like Cuban planes – was unsuccessful, and also tipped Cuban forces off to the impending attack.
Arriving at Playa Giron on April 17, 1961, invading U.S. forces were quickly overwhelmed by Cuban troops. Earlier attempts by the U.S. government to infiltrate Cuba and garner support in the months leading up to the attack failed, and the mission was suspended on April 19. More than 100 soldiers in the Cuban exile force were killed, and at least 1,200 were taken captive. The Bay of Pigs invasion was an embarrassing fiasco for the U.S., and an important victory for the Cuban revolutionary forces.
According to historian Jonathan Hansen, the Guantánamo Bay naval base played a role in this attack. U.S. military commanders were careful not to train invading forces at Guantánamo Bay, since Cuban forces closely monitored the area surrounding the base. But Admiral Robert Dennison, then commander at Guantánamo Bay, prepared the base to support the attack by readying troops, planes and ships.
Hansen also argues that Guantánamo Bay was intended for another covert action, whereby U.S. trained soldiers – disguised as Cubans – would launch a fake attack at Guantánamo Bay in order to instigate an attack on Cuban forces. It is unclear why this attack did not take place. Documents related to the Bay of Pigs attack are now available on the C.I.A. website.
2 Comments to: This Week in Guantánamo: 2012 and 1916