National Dialogue and Traveling Exhibit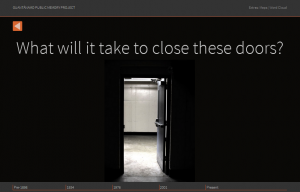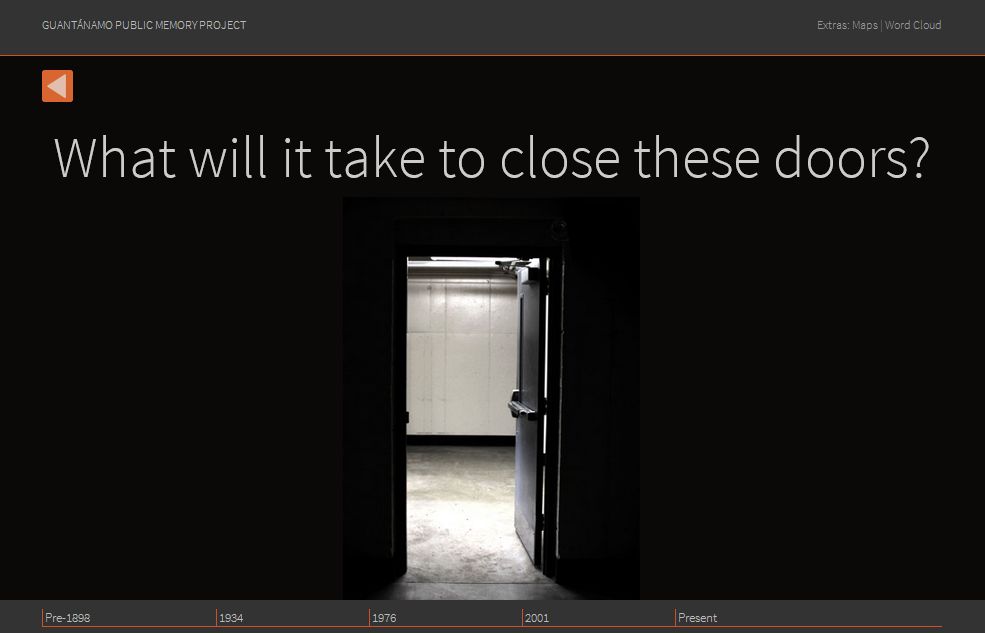 How do you make the history of the U.S. naval station at Guantánamo relevant and engaging for diverse public audiences? This is the central question we encountered in our undergraduate public history class at the University of Minnesota last fall. Many of us grappled with this question as we developed a panel for the Guantánamo Public Memory Project traveling exhibition. Yet, given the size of our class (30 students!) and the outpouring of creative ideas pertaining to our assigned topics, the multiple attempts to "close" Guantánamo and visions for the site's future, we decided to supplement our panel with a number of digital projects. Following a productive brainstorming session, we narrowed our ideas down to three:
– An interactive timeline detailing the various attempts to "close" and "open" Guantánamo Bay during its long history. This project uses images of opening and closing doors to depict the frustration associated with trying to close the base and reminds us that despite past promises, Guantánamo remains open today.
– A word cloud created from interviews with the "post-9/11 generation" about their opinions on the history of Guantánamo Bay to demonstrate the modern association of the base with its function as a prison, rather than with its previous uses. This project, which includes quotes and video clips of the interviews, came to the conclusion that these views are not the product of a "post-9/11 generation," but rather, a "post-9/11 world.
– A GIS (Geographic Information Systems) map depicting the flow of post-9/11 detainees over time from their homes, to their stay at Guantánamo Bay, and then finally to their current locations, to illustrate not only the astounding number of detainees held at Guantánamo, but also their diverse origins.
We divided into groups to work on these projects, bringing with us a vast number of perspectives. I was a member of the GIS mapping group, where I, an anthropology major, was joined by students from business, urban studies, geography, and religious studies, to name a few. Half of us were familiar with GIS software, while the other half was interested in its applications despite lacking an understanding of the program. We decided to divide the work; three of us enrolled in a project-based GIS class to work on the technical portion of the maps, entrusting the four remaining members with the task of researching the backgrounds of individual detainees, to add a personal dimension to the project. Our final maps were the result of collaboration, not only between the members of our group, class, and GPMP partners, but also with the greater University of Minnesota community, as we received help from both the Office of Technology and U-Spatial, a campus support center for spatial research.
Working on our digital projects was immensely rewarding. We were able to gain skills in website design, video production, and GIS, working alongside professionals to make our ideas into reality. In an increasingly digital world, it is important to understand and utilize new types of technology to find ways to reach out to our modern audience, a task we were able to accomplish through our projects. Additionally, because we chose our topics, we were invested in and genuinely excited about the work we were doing. This made the process enjoyable and our end products effective. The passion and enthusiasm each student showed for our project resulted in an intimate, supportive class environment, which was perhaps the most rewarding part of the experience.
Our digital projects can be found at gtmoproject.umn.edu
Posted by Rachel Hines – Undergraduate Anthropology Major at the University of Minnesota – Twin Cities
3 Comments to: University of Minnesota Digital Projects