National Dialogue and Traveling Exhibit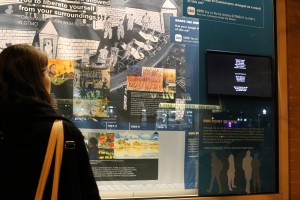 Since opening in December 2012, our traveling exhibit has visited some fifteen universities within the U.S., and has also traveled abroad to London, Istanbul and Brighton. It's been viewed by over 500,000 people to date.
But of course, there's one very important location that our exhibit has never visited – the subject of the exhibit itself. That's why we're very, very excited to announce that our project is finally heading to Guantánamo Bay.
Dr. Allison Marsh, the director of the University of South Carolina Public History Program will be leading a team of twelve graduate students on their trip to GTMO. The team will be collecting oral histories from current residents at the base. They will also unveil our traveling exhibit, and give those at the base the chance to contribute to our growing national dialogue.
Dr. Claire Jerry, the Chief Curator of Collections and Research at McKissick Museum, will be traveling with the team. She will help coordinate potential object loans for the exhibit.
The exhibit will be on display from September 17 to December 17.