National Dialogue and Traveling Exhibit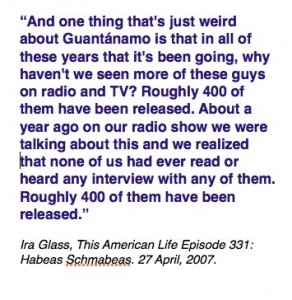 I remember hearing this episode of This American Life when I was in high school, in 2009. However it was not until I came across its transcription in the Guantánamo Public Memory Project files that I recalled any of its content. As I re-listen to it, I recall the sense of utter hopelessness I felt as the information first reached my ears. Yet that information had not stuck. How is it that I had forgotten something that provoked such strong emotions in me?
What has struck me most while learning about Guantánamo is what I discovered on the first day of class – that this kind of forgotten memory was not unique. I sat there in my chair listening to the comment, "I don't know much about Guantánamo," follow nearly each of my peers' introductions, myself included. What I find most intriguing about Guantánamo is that although most people recognize that this place and its complicated history is significant, they cannot recall its actual significance. I recall hearing snippets about Guantánamo, background noise really, just enough to recognize the name and associate it with injustice, terrorism, torture, and prisoners. However, on that first day of class I could not give a detailed explanation for my associations. It is as if a file was reserved within my mind labeled "Guantánamo" yet nothing lies within it. So when the class was presented with the question "Should GTMO be closed?" my initial response was "No," but again when I attempted to provide the reasoning behind my answer nothing came to mind. Without knowledge of Guantánamo's past, how is one supposed to make a decision about its future? How can the United States public be expected to have an opinion on closing GTMO when, for the most part, they do not know anything about it?
Before our nation can answer the question of whether or not GTMO can be closed we must first learn about its past. Guantánamo must exit the informational blind spot it currently resides in and relocate to the forefront of the public mind. However, when I consider how this can be achieved I remember my own experience after listening to the This American Life episode about GTMO prisoners. Overall, learning about Guantánamo leaves me with more questions than it does answers. How does one effectively present public information and make a permanent mark on an audience? Why doesn't the American public know more about Guantánamo's significance? How many other hotly debated political issues like closing GTMO lack public knowledge?
Posted by Marnie Macgregor – Anthropology student at the University of Minnesota – Twin Cities
The University of Minnesota – Twin Cities is participating in the Guantánamo Public Memory Project's National Dialogue and Traveling Exhibit. Opening at NYU's Kimmel Center for University Life Windows Gallery in December 2012 and traveling to 9 sites (and counting) across the country through at least 2014, the exhibit will explore GTMO's history from US occupation in 1898 to today's debates and visions for its future. The exhibit is being developed through a unique collaboration among a growing number of universities as a dialogue among their students, communities, and people with first-hand experience at GTMO.
3 Comments to: A Future Without a Past?