About GPMP | Reflection + Action
The Constitution Project, a non-profit organization that brings together legal and policy experts to foster dialogue about pressing constitutional challenges, has published a comprehensive report examining the treatment of people detained by U.S. forces under the War on Terror.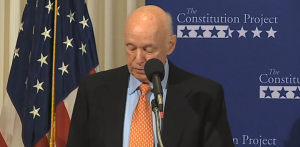 In addition to finding that people were tortured at Guantánamo, the report argues that the base occupied a central role in the U.S. government's design and implementation of interrogation programs across the globe:
"[Guantánamo] was a major testing ground for the government's policy of engaging in highly coercive interrogation techniques, practices designed to visit torment on detainees in the expectation or hope they would give up important and usable intelligence to help fight the new style of war in which the United States found itself.
It was the principal place where the government's mostly unannounced shift in policy from detention for prosecution to detention for interrogation occurred. The initial pledges of senior government officials that the horrific events of September 11 would be avenged by bringing terrorists to swift justice in the courts or military tribunals was quietly replaced with a new model. Detainees would not be brought quickly before some tribunal. Instead, they would be held at length for another purpose — interrogation. The view of the detainees as an intelligence resource to be mined contributed to the rapid escalation of the coercive techniques deemed acceptable."
That the report is one of the most thorough investigations of the treatment of detainees to date underscores the U.S. government's unwillingness to address these issues and how they relate to conceptions of human rights outlined in the U.S. constitution. Consequently, non-governmental organizations and civil projects, like the Constitution Project and the Guantánamo Public Memory Project, have led efforts to engage the public with the human rights concerns that Guantánamo represents.
Click here to read the report.
Click here to watch a press conference on the report.
Click here to read a summary published by the New York Times.