This Week in Guantánamo: Present and Past
October 4, 2013: The Obama administration prepares to release another detainee from GTMO – the third in about as many months – after dropping its legal opposition to the release of Ibrahim Idris. Diagnosed as mentally ill soon after arriving at GTMO in 2002, Idris is not considered a threat, and will likely to be returned to Sudan.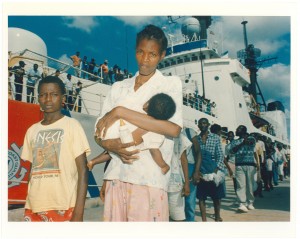 September 30, 1991: Haiti's first democratically-elected president, Jean-Bertran Aristide, is overthrown after less than a year in office. The violent coup causes Aristide and many of his supporters to flee the country. Some left the country in rickety boats, hoping to find asylum in the U.S. This was the beginning of the crisis that saw over 30,000 Haitians picked up at sea and detained at GTMO.