National Dialogue and Traveling Exhibit
The itinerary for our traveling exhibit crisscrosses the country, from Providence, Rhode Island to Riverside, California; from St. Paul, Minnesota to Phoenix, Arizona. Each stop on the itinerary brings a distinct set of local considerations and concerns to the exhibit. In New York the exhibit was displayed right on Washington Square, an important site of community building in the days after the 9/11 attacks. In Indianapolis important connections were drawn between Guantánamo and a nearby Supermax prison nicknamed 'Little Gitmo.'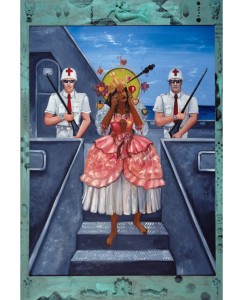 For all the diversity of this itinerary, there has been one important destination missing. Few places in the U.S. have had as long and complex a relationship with Guantánamo as Miami. Home to large populations of Cubans and Haitians – including some who had come to the U.S. by way of  GTMO – Miami is an important repository of memory and identity formed at the base.
So we're thrilled to announce that in 2014 the Guantánamo Public Memory Project will be participating in a huge series of events and exhibits in Miami. Partnering with the Little Haiti Cultural Center, History Miami, the Miami Herald, and various people and programs at Florida International University, we'll be a part of a big awareness-raising and community-building endeavor in August and September of 2014.
By working with so many great institutions, we'll be able to promote a citywide dialogue, bringing diverse groups together to consider the full history of Guantánamo. We'll be combining art installations, video testimonies, public symposia, and student-led projects. And these are just our plans: our partners have big visions of their own, and will be forming new collaborative bonds among themselves, as we all seek to engage the rich memories of and connections to GTMO's past, and to provoke local communities to take a leading role in shaping its future.
Stay tuned for more details of one of our most ambitious projects to date. And don't forget that between then and now, we'll be bringing our exhibit to a host of other fantastic destinations. The next stop is University of Massachusetts Amherst, where our exhibit will open on September 11.